Clearview AI is a dystopian face recognition tool that drew ire in 2019 for using images that are illicitly scraped from social media platforms as its training data. Leaked data from April 2021 revealed that dozens of police departments and other government agencies across Massachusetts have run searches using Clearview's software: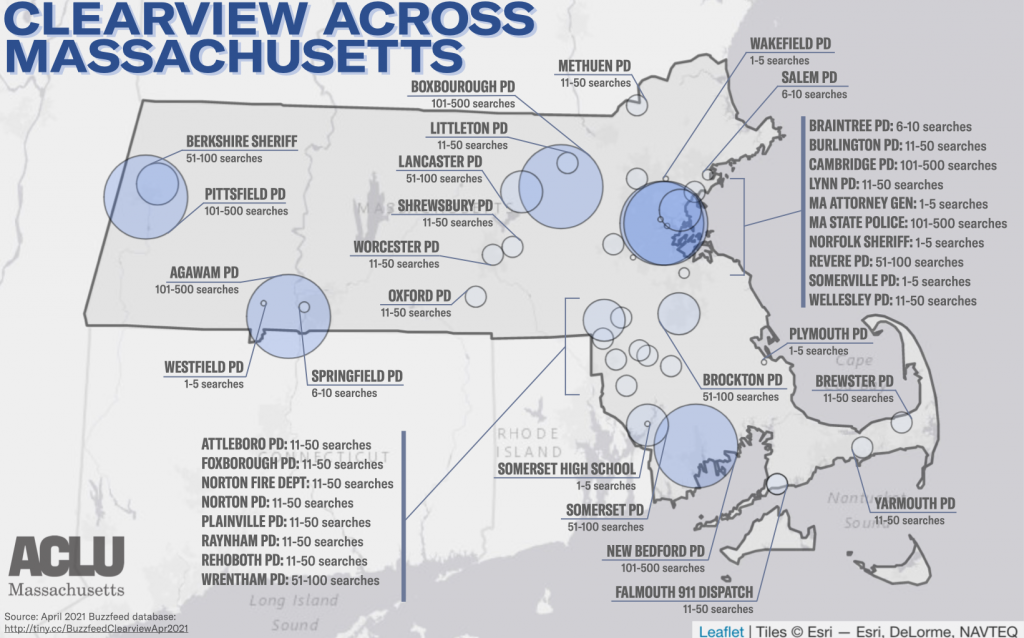 In February and April 2020, the ACLU of Massachusetts filed public records requests with 346 Massachusetts Police Departments, requesting communications and records regarding Clearview AI, a dystopian private facial recognition software.
Below we present the results of these requests, split into the following three categories:
Departments which reported use of or communication with Clearview AI
Departments which reported only solicitations from Clearview AI
Departments which reported no responsive documents
---
Use of or Communication with Clearview
The below police departments returned responsive documents which showed communication with, and in some cases use of, Clearview AI.
The police departments which returned responsive documents which showed only solicitations from Clearview are listed here.
They include: Barnstable, Lowell, Needham, Palmer (Town), Stoneham, Revere, Chelmsford, Concord, Dudley, East Longmeadow, Hanson, Marion, Medway, Merrimac, North Andover, and Tyngsborough.
The police departments which had no responsive documents are listed here.
They include: Abington, Acushnet, Amesbury, Amherst, Arlington, Ashburnham, Ashby, Ashfield, Athol, Attleboro, Auburn, Ayer, Barnstable, Barre, Bedford, Belcher, Belmont, Berkley, Bernardston, Billerica, Blackstone, Blandford, Bolton, Boxborough, Boxford, Boylston, Braintree, Brewster, Bridgewater, Brockton, Brookline, Buckland, Burlington, Canton, Carlisle, Charlemont, Chatham, Chelsea, Chicopee, Clarksburg, Clinton, Cohasset, Cummington, Danvers, Dartmouth, Dedham, Deerfield, Dennis, Douglas, Dover, Dracut, Dudley, Dunstable, East Hampton, Eastbridge, Eastbrookfield, Easton, Edgartown, Egremont, Erving, Essex, Everett, Fall River, Fitchburg, Franklin, Freetown, Gardner, Georgetown, Gill, Gloucester, Goshen, Gosnold, Grafton, Granby, Greenfield, Groveland, Hadley, Halifax, Hamilton, Hanover, Hardwick, Hatfield, Haverhill, Heath, Hingham, Holbrook, Holden, Holland, Holliston, Holyooke, Hopedale, Hopkington, Hubbardston, Hudson, Hull, Ipswich, Lakeville, Lawrence, Lee Town, Leicester, Lenox, Leominster, Leverett, Lexington, Lincoln, Longmeadow, Ludlow, Lunenburg, Lynn, Lynnfield, Malden, Manchester By The Sea, Marblehead, Mashpee, Massart, Mattapoisett, Maynard, Medfield, Medford, Melrose, Mendon, Methuen, Middleborough, Middlefield, Middleton, Milford, Millbury, Millis, Millville, Milton, Monson, Montague, Msp, Nahant, Nantucket, New Bedford, New Salem, Newburyport, Newton, Norfolk, North Adams, North Attleboro, North Brookfield, North Reading, Northbridge, Northfield, Northshore College, Norwell, Norwood, Orange, Orleans, Palmer, Paxton, Peabody, Pelham, Pembroke, Phillipston, Pittsfield, Plainville, Plymouth County Sheriff, Provincetown Od, Quincy, Randolph, Reading, Rehoboth, Rochester, Rockport, Rowe, Rowley, Royalston, Sandwich, Seekon, Sharon, Sheffield, Shelburn, Sherbon, Shirley, Shutesbury, Somerville, South Hadley, Southborough, Southbridge, Spencer, Sterling, Stockbridge, Stoughton, Stow, Sturbridge, Sunderland, Sutton, Swampscott, Swansea, Taunton, Tisbury, Topsfield, Town Of Oxford, Townsend, Tyringham, Uptown, Uxbridge, Wakefield, Walpole, Waltham, Wareham, Warren Ma, Watertown, Webster, Wellfleet, Wenham, West Springfield, West Tisbury, Westfield, Westford, Westminster, Weston, Westwood, Weymouth, Whitman, Wilbraham, Williamstown, Wilmington, Winchendon, Windsor, Winthrop, Woburn, Worcester, and Worcester County Sheriff Office.
No Response
Other Massachusetts police departments not listed above did not respond to our records request.